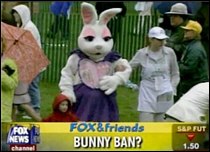 Uh oh, look out. It appears that us evil secular liberals have decided to wage a
WAR ON EASTER!
(I must have missed that memo from Evil Secular headquarters)
Either that or John Gibson needed an excuse to write
another book.
I swear these fucktards just get dumber, crazier and more
shrill
by the week. Are they that desperate for some kind of issue to distract from the Rethuglican's implosion?
I say we have some fun with these wingnuts: Around early to mid June, we start rumblings about a War on Independence day, and watch the Freepers and hillbillies freak out.
These kinds of idiots almost make me favor forced sterilizations.
And, since Easter is really just a
sanitized pagan fertility festival
, can we rename the Easter Bunny to
The Fuck Bunny?
Update: Because the Rightwing Chicken-Little Hawks have been screaching about a phoney "War on Easter" the producers of a documentary entiled
The God Who Wasn't There
have begun to use the "War" as a clever marketing strategy. Check out the classic pranksterism they are engaged in.